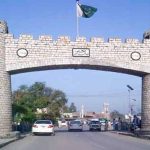 NOWSHERA: A 13-year-old female Madrassa student has accused three persons of sexually abusing her after kidnap in Sanobar Killi, Pir Sabaq in Nowshera.
According to Nowshera Kalan Police, the girl has alleged that she was going home after religious lesion at Madrassa when three accused, Sajjad, Usman and Zari Shah kidnapped her in their vehicle and gang-raped her. Police shifted the victim girl to District Headquarters Hospital Nowshera where DNA samples were obtained and sent for laboratory tests. A case has been filed against the three accused.
Assistant Superintendent Police (ASP) Nowshera Cantt Mohammad Bilal said a joint team of Nowshera Kalan and Risalpur police stations conducted raids and arrested the three accused and they are being interrogated. Further action in the case will be taken in the light of the results of the laboratory tests.
The family of the victim girl has demanded exemplary punishment to the culprits.
Several incidents of sexual abuse have happened in Nowshera recently, and despite strong action by law enforcing agencies against such crimes, the incidents are still happening.