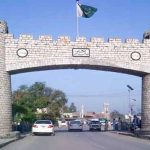 ISLAMABAD: The golden era of General Raheel Sharif as army chief ended on Tuesday after he handed over the command of the army to Chief of Army Staff General Qamar Javed Bajwa in a ceremony held in the Army Hockey Stadium, close to the General Headquarters (GHQ).
General Sharif, as head of the military, has proven himself to be a competent commander, who not only acted against the Islamic militants at tribal belt but also in Balochistan and resolute against the prevalent corruption in the country.
During his tenure, Gen Raheel Sharif led Pak-Army from the front and gains were made in the Federally Administered Tribal Areas, Balochistan and Karachi.
Gen Raheel accomplishment of restoring peace and stability in country was not ordinary task and his unyielding agenda to strengthen Pakistan domestically and internationally earned him the title of the most powerful Army Chief in the world.
What General Raheel Sharif did for Pakistan as head of military?
Zarb-e-Azb:
Soon after becoming the 15th Chief of Army Staff, Gen Raheel Sharif launched military offensive Zarb-e-Azb in North Waziristan and operation Khyber-I and II in Khyber Agency against the Tehreek-i-Taliban Pakistan, something from which his predecessor shied away fearing blowback, which resulted in insurgents being killed or escaping to Afghanistan has had a major positive effect. The government and opposition, at that point, was still pursuing a policy of negotiated peace with the militants based in the tribal areas. However, his bold proved his opposition wrong and after the operation got well under way that the civilian leadership endorsed it.
Major militant attacks have been reduced from dozens every month in 2014 to no more than one or two a month this year. Over 8,000 terrorist eliminated in light of Zarb-e-Azb bringing down terrorist activities by more than 60% in Pakistan.
KARACHI Operation:
General Raheel Sharif also launched a Rangers based operation in Karachi, the hub of Pakistan economy, against militants and party-based militias.
The Karachi's clean-up operation witnessed largely decreased in militants attacks, sectarian attacks, target killings, and extortion cases by political party-based militias in the city after many years.
According to reports, Karachi operation has seen 69% decrease in target killing, 85% reduction in extortion and 90% drop in kidnapping activities across the city.
Playing a vital role in economic growth:
General Raheel Sharif has given unconventional support to economic policies and he believed that liberal economic policies and good relations with neighboring countries are the only way forward for Pakistan. General Raheel Sharif promised unconventional support to the China-Pakistan Economic Corridor, vital part in the economic growth of the country. It was the Raheel Sharif who played vital role in perusing China to launch EPEC projects.
He also visited capitals across the globe – from London and Washington to Beijing and Kabul – to meet monarchs, presidents, prime ministers, foreign ministers to strength Pakistan's tie and economy.
Accountability within the Ranks:
General Raheel Sharif is the man behind the accountability in the country. He was widely hailed for his anti-corruption efforts. Gen Raheel launched an anti-corruption drive within in Pakistani-Army and sacked at least 12 army officers due to corruption charges. He also vows to bring the culprits of the DHA Valley scam to justice. At many occasions, General Raheel Sharif stressed on needs to ensure across-the-board accountability in the country. He, even, met twice, according to media reports, to National Accountability Chairman Qamar Zaman Chaudhry to intensify anti-corruption drive.
Extension of military powers:
The morals of the Pak-army was pretty low under former army chief General Ashfaq Parvez Kayani. According to former Major General Athar Abbas, who served as DG ISPR in Kayani period, he was reluctant to launch military offensive in tribal belt as there was little chances of success. And after the killing of former al Qaeda leader Osama bin Laden in May 2011 in the Pakistani garrison city of Abbottabad, the army came under fire domestically and internationally.
But his successor Raheel Sharif has restored the army image and expended military powers by means of military operation in North Waziristan, Khyber Agency and Balochistan and an aggressive media campaign throughout his tenure. The army has become omnipresent and omnipotent under General Sharif leadership. As result, he secured exclusive power over the twin domains of national security and foreign policy.
Consolidation of democracy:
Although, Nawaz Sharif and Raheel Sharif have not been on the same page over the role of homegrown Islamist militants and ties with India, but Raheel Shairf gives full support to grove democracy in the country.
During PTI and Tahirul Qadri party Pakistan Awami Tehreek (PAT) sit-in in Islamabad in 2014, provided great opportunity to the military leadership to overthrow the government. But, despite of conspiracy theory of preparing ground for military takeover, Gen Raheel tarried to play role to resolve the Govt-PTI stand-off. Through his policies and actions, the army's role could be made better in the future with better co-relations between the army and the civilian government.
National Action Plan:
The terrorists attack on an army public school in Peshawar in December 2014 that left 150 people, mostly students, dead, led to a dramatic change of policy by both military and the civilian government.
The civil-military leadership and opposition parties agreed to a 20-point National Action Plan that would combat and eliminate the threat of terrorism.
Gen Raheel Sharif implemented military aspects of the plan by expending military offensive in North Waziristan to other areas such as the Khyber and Kurram tribal agencies in the border regions. But the civilian government shown little interest over implementing the social and political aspects of the plan – in areas such as madrassa reform, improving education, eliminating corruptions and, most important of all, building the promised National Counter Terrorism Authority (Nacta). The army also tried to push Punjab government for rangers based operation in the province, but they didn't succeeded.