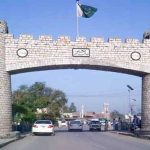 MINGORA: At least three children were killed and two others were injured when an abandoned mortar shell exploded in Swat on Wednesday.
According to local police, a 14-year old boy was working in a field in Matta Tehsil of Swat district when an old mortar shell exploded.
The police said that three children were killed and two others injured in the explosion. The injured were rushed to Saidu Sharif hospital in critical condition. The dead were identified as 14-year old Sadis, 9-year old Omar, 8-year Anus. The injured were identified as 9-year old Nizam and 10-year old Hussain.
The residents of the areas said that the explosives, left during operation against terrorists, were still present in different areas. They said that such tragic incidents have occurred in the past. The government and law enforcement agencies should take steps for clearing the area of abandoned explosive materials.