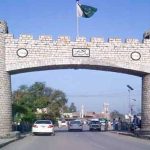 KARACHI: Prime Minister Shahid Khaqan Abbasi has on Monday inaugurated the second Liquefied Natural Gas (LNG) terminal at Port Qasim which was built at a cost of Rs. 50 billion.
Addressing the media after the inauguration, the prime minister said when the Pakistan Muslim League-Nawaz (PML-N) took control of the government, there was a severe shortage of power.
He added however, our government had taken steps to control the energy shortage in the country.
Prior to this, Sindh Chief Minister Syed Murad Ali Shah called on Prime Minister Shahid Khaqan Abbasi in Karachi and exchanged views on political issues and on-going development projects in the province.
Governor Sindh Muhammad Zubair was also present on the occasion.