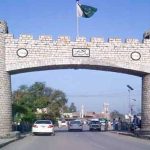 KARAK: Federal Minister for Petroleum and Natural Resources, Shahid Khaqan Abbasi here Tuesday inaugurated the gigantic Makori Gas Processing Plant Karak that would help play vital role in development of oil and gas industry in Pakistan.
Politicians, lawmakers, LG representatives and senior officials of Ministry of Petroleum and Natural Resources and MOL Pakistan Oil and Gas Company besides local elders attended the inauguration of Makori Gas Processing Plant.
The plant would produce 305 MMSCFD of natural gas, 520 metric tons per day LPG and 25000 barrels per day of condensate/crude that would play a vital role in development of oil and gas industry in the country.
Speaking on the occasion, the Federal Minister for Petroleum and Natural Resources Shahid Khaqan Abbasi said the government was well aware of requirements of industrial and domestic sectors and were taking every possible measure to meet the gas needs of these sectors for stable and progressive economy.
The Minister said no proper planning was done during the previous regimes to cope with rising demand of gas of domestic and industrial sectors, saying the present elected government soon after coming into power had accorded highest priority to energy and gas sectors to cater the high domestic and industries by utilizing all options.
Shahid Khaqan Abbasi said the Government was working on several gas search projects to fulfill the country's gas requirements. The Federal Government had initiated gas-related projects worth Rs800 billion including setting up of LNG terminals and gas pipelines to meet energy needs of the country.
He said Pakistan will have energy surplus due to effective policies of PML-N government under the leadership of Prime Minister Muhammad Nawaz Sharif by 2018. The Minister said special focus has been given to energy sector in CPEC and these projects after completion would exterminate menace of load shedding for ever.
Abbasi while commenting on three and half years performance of the PML-N government said the country has achieved tremendous progress almost in every sectors including energy, infrastructure, communication, economy, social and oil and gas sector and today Pakistan is for better, economically stable and prosperous that it was in 2013.
He said uninterrupted gas supply was being provided to industrial and domestic sectors of Khyber Pakthunkhwa despite shortage of gas in the country and urged people to save gas especially during peak hours.
The Minister said 50 percent electricity used by domestic and industrial sectors was being produced from different power units, which are run from gas.
The Federal Minister said the shortage of gas problem would be addressed with completion of gas and energy projects in the country.
He said gas and energy was engine of growth and no economy could develop without promotion of business and industry. The Minister said the government was seriously working to confront with all the challenges presently the country was facing.
He said shortage and lower pressure of gas would be overcome with the addition of more gas in the system. He said Karak was very rich in gas and Makori gas facility like projects would help generate job opportunities besides eradicating poverty in the area.
The Minister congratulated MOL Pakistan at inauguration of Makori Gas Processing Plant and expressed the hope that they will continue to invest and build the gas exploration and production sector of the country. Earlier, the Minister was briefed by MOL authorities about salient features of Makori Gas Processing Plant.