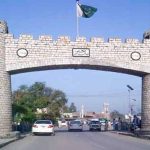 ISLAMABAD: Former prime minister and PML-N leader Shahid Khaqan Abbasi Saturday opposed deployment of the army inside the polling stations for the elections in tribal districts.
Speaking at the National Assembly session, the former president said that no armed forces were deployed inside the polling stations in recent elections in India, where results were announced 10 days after the polling.
He said, "we should learn listen from the past and should not make the elections controversial". He said that the ECP was not in control of the polling stations during last general elections which made the elections controversial. "We should try for undisputed elections in the country," he said.
He said that the government was claiming that it has reduced expenditure during current financial year, however, now the government was demanding supplementary grants. He said that the government has presented the Rs3500 billion deficit budget.
Leader of Opposition Shahbaz Sharif said the House should hold discussion on the foreign policy issues.
Responding to him, Foreign Minister Shah Mahmood Qureshi said the government has no objection to it. He said there should be bipartisan approach on the foreign policy.
The Foreign Minister said this time the house held unprecedented discussion on the budget and the economy.
The Speaker said he supports the idea of holding discussion on the economy, foreign policy, water and the agriculture.