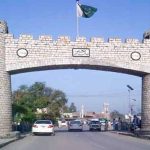 ISLAMABAD: Minister for Foreign Affairs Shah Mehmood Qureshi has said that Abdullah Abdullah is an important figure and we are in contact with him as his support is required for peace in Afghanistan.
In an interview, Foreign Minister Shah Mehmood Qureshi said that Ashraf Ghani has accepted Taliban's demand of prisoners' release.
Answering a question, he said that matters are moving forward on Afghan peace deal and added that Pakistan has urged everyone to take a reasonable direction.
Talking about South Punjab province, Foreign Minister said that South Punjab Secretariat will cost Rs3.5 billion.
He also said that government will make efforts to pass South Punjab resolution from the assembly and he announced to contact other political parties for the amendments. He also urged elected representatives to PML-N and PPP to play their role as a new province will also strengthen the federation.