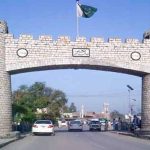 KARACHI: An accountability court on Tuesday allowed former petroleum minister Dr Asim Hussain to travel abroad for medical treatment.
The close aide of former president Asif Ali Zardari has been allowed to travel abroad from October 2 to October 30.
Dr Asim is facing two corruption references regarding alleged corruption of Rs462.5 billion by misusing his powers.
During the hearing today, Dr Asim through his counsel moved an application seeking the court's permission to travel abroad for medical treatment.
He was also allowed to travel abroad for treatment in June this year.
The Pakistan Peoples Party (PPP) leader was arrested by Rangers in August 2015, while he was heading the provincial higher education department. He was later transferred to the custody of the civilian law enforcement agencies.
In March 2017, Dr Asim was released after 19 months in custody, when he secured bail in all three cases against him.