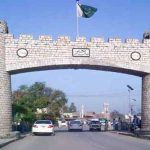 LAHORE: An accountability court on Tuesday extended by 14 days the physical remand of former Lahore Development Authority (LDA) director general Ahad Cheema, chief executive officer (CEO) of Bismillah Engineering Shahid Shafiq and two other accused in the Ashiana Housing Scam.
The National Accountability Bureau (NAB) produced Cheema, Shafiq and two others the court today seeking an extension in the suspects' physical remand.
The court was informed by NAB officials that further investigation is required in the case, including forensic examination of Cheema's laptop.
After reserving its verdict, the court extended the remand for 14 days and directed NAB to produce the suspects on April 17.
On March 20, the Interior Ministry blacklisted Cheema from obtaining a passport and an accountability court approved an extension of his physical remand.
NAB is investigating allegations that Cheema, by misuse of authority and with criminal intent, awarded a contract of the Ashiana-e-Iqbal housing project of approximately Rs14 billion to Lahore Casa Developers — a joint-venture which was ineligible for the contract.
The NAB had launched an investigation against the management, officers, and officials of the Punjab Land Development Company (PLDC), management and owners of Lahore Casa Developers, officers and officials of the LDA after the government cancelled the award of the Ashiana-e-Iqbal housing scheme to the successful bidder M/S Chaudhry Latif and Sons.
The award was given to M/S Lahore Casa Developers (JV) – a proxy group of M/S Paragon City (Pvt) Limited (which is stated to be developed by Railways Minister Saad Rafique) – hence causing a loss of millions of rupees to the exchequer.
Shafiq's company was part of the joint venture Lahore Casa Developers that NAB has said was ineligible to receive the contract.