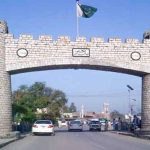 LAHORE: An accountability court in Lahore on Thursday extended the transit remand of Pakistan Muslim League-Nawaz (PML-N) President and Opposition Leader in the National Assembly Shehbaz Sharif for seven days.
Shehbaz Sharif was brought to the court under heavy security after which, the accountability judge passed the order extending the transit remand for Shehbaz Sharif.
During the proceedings, Shehbaz Sharif said that cases were not being investigated on the basis of merit adding that if there was rupee 1 worth corruption in the Aashiana case, then I am ready for punishment.
The leader of the opposition leader also claimed the he was not being given access to medical treatment nor was he allowed to meet his family. He added that meeting his family was his fundamental right.
NAB responded by saying that the authority has not barred Shehbaz from meeting his family, however, none of his family members come to visit him.
The court instructed NAB to ensure Shehbaz is allowed to meet his family at least once a week.
Later, the court extended the transit remand of Shehbaz Sharif for seven days and adjourned hearing of the case.
Following the issuance of the transit remand, Shehbaz will be shifted to Islamabad to attend the parliamentary session starting from tomorrow.