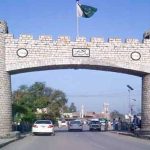 ISLAMABAD: The accountability court hearing the case regarding assets beyond known sources of income against Senator Ishaq Dar is likely to indict the co-accused named in the supplementary reference against the former finance minister today (Monday).
Accountability court judge Muhammad Bashir will conduct hearing of the case. During the previous hearing, co-accused in Ishaq Dar corruption case, National Bank president Saeed Ahmad, Mansoor Raza and Naeem Mehmood escaped indictment for the third time as their lawyer Hashmat Habib was absent from the proceedings.
The assistant lawyer of the co-accused requested the court to adjourn the hearing for a day. However, NAB prosecutor while opposing the pleas asked the court to indict the three suspects in the case as the presence of lawyer on the occasion in not legally necessary.
"What difference will a day make? You usually appear before the court on daily basis," replied the judge to NAB prosecutor.
The assistant lawyer of the co-accused told court that they have yet not received the order of Islamabad High Court whereas NAB has also approached IHC for the copy.
Hopefully we will receive the order's copy today, he added.
Saeed Ahmad also requested the court to provide them a chance so that they can see IHC's order.
"I know that there is nothing in the order. Your petition has been dismissed by the IHC," remarked the judge. "You people also enjoy coming to court on every hearing and then request to adjourn indictment," the judge said to the co-accused.
"We also face difficulty from the adjournment as we have to travel from Lahore to Islamabad on every hearing," answered the suspects.
The court directed the suspects' assistant lawyer to submit written plea pertaining to adjournment of hearing and absence of lawyer. The hearing was postponed till April 2 after the lawyer complied by the orders.