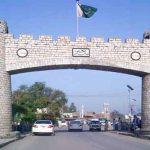 ISLAMABAD: The accountability court on Wednesday ordered Ishaq Dar to appear before the court within ten days in assets beyond his known sources of income reference filed against him by the National Accountability Bureau (NAB).
After Dar's guarantor Ahmed Ali Quddusi appeared before the the accountability court, judge Muhammad Bashir also announced to declare Dar a proclaimed offender if he failed to appear in the next hearing.
The court went into a recess to give time to Quddusi to appear but he remained absent after the break as well.
As the hearing was resumed after the recess, Judge Muhammad Bashir heard the arguments of both the sides and adjourned the hearing till December 4.
Advertisements of his summoning have been displayed in front of his houses as well as the accountability court.
It is worth mentioning here that the court had earlier rejected Dar's petition in which he sought immunity from hearing and had ordered NAB to release advertisement for Dar's summoning within ten days.
Ishaq Dar is in London owing to medical reasons and is undergoing heart treatment there.