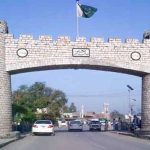 ISLAMABAD: The accountability court resumed hearing of the three National Accountability Bureau (NAB) references against Sharif family on Wednesday after the the ousted prime minister (PM) Nawaz Sharif, his daughter Maryam Nawaz and son-in-law Captain (r) Safdar reappeared in the court.
The ousted premier is attending the proceeding being conducted by Judge Muhammad Bashir, nevertheless he was granted exemption from personal appearance for one week by the same court during the previous hearing.
Earlier, Nawaz Sharif and his daughter Maryam Nawaz had sought exemption on the account of the medical condition of Nawaz's wife Kulsoom, who is undergoing treatment for lymphoma in London. The court allowed Nawaz to be exempted for a week and Maryam for a month.
During previous hearing, Justice Mohammad Bashir declared Nawaz Sharif's sons Hassan and Hussain absconders over their continuous absence in the case.
Nawaz Sharif is nominated suspect in references regarding Avenfield properties, Azizia Steel Mills and Flagship Investment, while Maryam Nawaz and her husband Captain (r) Safdar are nominated in reference regarding Avenfield properties alone.
The former PM was indicted by the accountability court during his fifth appearance in the court on November 8 in all three corruption references separately.
However, Nawaz denied all the charges pleading not guilty and saying that the proceeding was initiated on political basis.