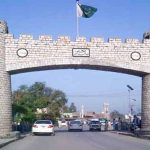 ISLAMABAD: The accountability court on Wednesday resumed hearing of Al-Azizia Steel Mills and Flagship Investment cases as former prime minister Nawaz Sharif and his daughter Maryam Nawaz appeared in the court.
Accountability court judge Mohammad Bashir will conduct hearing of the supplementary references over Al-Azizia Steel Mills and Flagship Investment cases filed by National Accountability Bureau (NAB) against the Sharif family.
During today's hearing, five witnesses of the prosecution will record their statements in the court while lawyer of the Sharif family, Khawaja Haris will cross-examine the witnesses.
In the previous hearing, head of Joint Investigation Team (JIT) – formed to probe off shore companies and properties of the Sharif family – Wajid Zia had recorded his statement.
Maryam Nawaz andCapt. Retd Safdar were present on the occasion as the court had granted Nawaz Sharif exemption from personal appearance after marking his attendance.
Nawaz's lawyer pleaded the court that his client was not well and hence be granted exemption, which the court accepted.