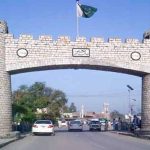 ISLAMABAD: National Accountability Bureau (NAB) witnesses on Wednesday recorded her statement in accountability court in connection with NAB references against Sharif family.
Accountability court judge Justice Muhammad Bashir resumed hearing of the references after former Prime Minister (PM) Nawaz Sharif, his daughter Maryam Nawaz and son-in-law Captain (r) Safdar appeared in the court.
During the hearing, Sidra Mansoor of the Securities and Exchange Commission of Pakistan (SECP) and Jahangir Ahmad of the Federal Board of Revenue (FBR) recorded their statemets with the court.
Later, Nawaz submitted an exemption from appearance request, from November 20 for a week, owing to the ongoing medical treatment of his wife Kulsoom in London.
His counsel stated that Nawaz's pleader, Zafir Khan, will appear on the former premier's behalf during his absence.
Maryam also submitted an exemption request, stating her pleader Jahangir Jadoon will appear on her behalf.
Meanwhile, Maryam Nawaz also submitted plea seeking exemption from the hearing.
The court then allowed Sharif family members to leave and later, reserved its judgment on the exemption appeals of the ousted prime minister Nawaz Sharif and his daughter Maryam Nawaz.
Nawaz Sharif is nominated suspect in references regarding Avenfield properties, Azizia Steel Mills and Flagship Investment, while Maryam Nawaz and her husband Captain (r) Safdar are nominated in reference regarding Avenfield properties alone.
It was 12th hearing of Avenfield properties and Azizia Steel Mills references and 13th hearing of the Flagship Investment reference.
Former prime minister Nawaz Sharif appeared before accountability court on five occasions while Maryam Nawaz and Captain (r) Safdar for seven times.
The former PM was indicted by the accountability court in the court on November 8 in all three corruption references separately.
However, Nawaz denied all the charges pleading not guilty, saying that the proceeding was initiated on political basis.
On the other hand, former PM's sons Hassan and Hussain Nawaz did not appear in the court during previous hearings after which the court started proceeding to declare them absconders.