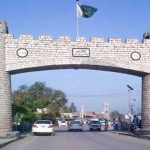 ISLAMABAD: The accountability court on Tuesday adjourned hearing of National Accountability Bureau (NAB) references against the ousted prime minister Nawaz Sharif, his daughter Maryam Nawaz and son-in-law Captain Retd Safdar until January 09.
Judge Muhammad Bashir also issued notices to six more witnesses to appear before the court in the next hearing.
During today's hearing, which was conducted by Judge Muhammad Bashir, two prosecution witnesses; Tasleem Khan and Zawar Manzoor recorded their statement with the court.
Tasleem Khan is Inland Revenue Commissioner at the Federal Board of Revenue (FBR) while Zawar Manzoor is Assistant Director NAB.
Earlier, the three suspects Nawaz Sharif, Maryam Nawaz and Captain Retd Safdar reached the accountability court in a motorcade of as many as 26 vehicles with ministers and workers of Pakistan Muslim League-Nawaz (PML-N) cheering at PML-N' President Nawaz Sharif.
Nawaz Sharif, who returned Islamabad from Jeddah on Tuesday, is a nominated suspect in references regarding Avenfield properties, Azizia Steel Mills and Flagship Investment.
Meanwhile, Maryam Nawaz and her husband Captain (retd) Safdar are nominated in reference regarding Avenfield properties alone.
As many as 18 hearings of Flagship Investment reference, 17 of Avenfield properties reference and 21 hearings of Azizia Steel Mills reference have been completed so far.
Former prime minister Nawaz Sharif appeared before accountability court on ten occasions while Maryam Nawaz on 12 times and Captain (retd) Safdar on 14 occasions.