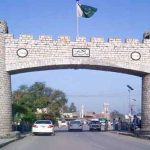 KARACHI: A session court Saturday accepted the bail application of Shahrukh Jatoi and other three accused in Shahzeb Khan's murder case.
The court directed the accused to submit surety bonds of Rs 0.5m each in the court for bail.
Earlier, the court had reserved the verdict after father of late Shahzeb Khan, who was murdered by the son of an influential feudal in 2012, submitted an affidavit in support of the convicts' bail application in the court.
An ATC had had awarded death sentences to Shahrukh Jatoi and Siraj Talpur for the murder of Shahzeb, while life sentences were awarded to Sajjad Ali Talpur and Ghulam Murtaza Lashari in 2013.
Aurangzeb Khan, father of Shahzeb Khan, stated in his affidavit that with the consent of his family members he has reached compromise with the family of the convicts and pardoned the murder of his son in the name of God.