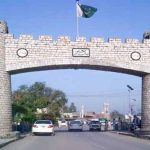 ISLAMABAD: Pakhtunkhwa Milli Awami Party (PkMAP) leader Mehmood Khan Achakzai ruled out success of China-Pakistan Economic Corridor (CPEC) without justice and peace in Pakistan.
"You'll have to do justice to run Pakistan's affairs successfully," he said, adding injustice gives birth to hatred which becomes the main cause of conflicts leading to wars.
He was speaking at the All Parties Conference (APC) convened here under Balochistan National Party-Mengal (BNP-M) chief Sardar Akhtar Mengal with an aim to evolve a political consensus on issues relating to CPEC.
Achakzair warned that situation around Pakistan has turned worrisome and Pakistan has very limited time.
He said the US, India and Iran have collaborated to build Chabahar port and its lights can seen from Gwadar port.
Achakzai termed democracy as the cure to all ills being faced by the country.
Maulana Fazl-ur-Rehman
Jamiat Ulema-e-Islam-Fazl (JUI-F) leader, Fazl-ur-Rehman called for a Prime Minister chaired APC to take up the issues pertaining Balochistan and its port city Gwadar.
He said the PM himself had expressed intention to hold an APC on Balochistan.
JUI-F chief said how strange is it that 'we have to face severe criticism for demanding the rights enshrined in the Constitution'.
Raja Zafrul Haq
Pakistan Muslim League-N, Senator Raja Zafrul Haq said a delegation headed by Balochistan National Party-Mengal (BNP-M) chief Sardar Akhtar Mengal will meet with the Prime Minister.
He said the western route of the CPEC will be given preference and it will be built first.
He said today nobody said the CPEC is not in the interest of Pakistan.