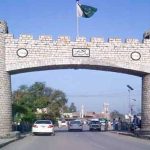 KARACHI: The acquittal of former Senior Superintendent of Police (SSP) Rao Anwar and other accused in the Naqeebullah Mehsud murder case has been challenged in the Sindh High Court (SHC).
The appeal was filed on behalf of Naqeebul­lah's brother Sher Alam on Monday, who maintains despite strong evidence against the accused, the anti-terror­ism court had acquitted all of them, including Rao Anwar.
An anti terrorism court In Karachi had acquitted Rao Anwar and 17 members of his team in the extrajudicial killing of Naqeeb and three others in a staged encounter in January 2018.
Appellant Alam Sher, through his counsel Jibran Nasir, submitted in the appeal against the ATC verdict that besides factual oversight and misreading of evidence there were legal incurable defects in the judgement.
Referring to a ruling of the Supreme Court, he stated that the trial court had erred in law by passing a consolidated judgement in three cases, as besides the main case the accused police officers were also booked in two other cases for foisting explosives and illicit weapons upon the victims.