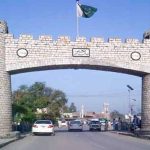 LAHORE: Protests by members of banned outfit Tehreek-i-Labbaik Pakistan (TLP) entered their seventh day today (Thursday), with protesters camping out in Kamoke since last night.
The activists of the proscribed organisation marching towards Islamabad have set up camp on the Kamoke portion of GT Road, while they make preparations to move ahead in their march. Business centres in the city and on GT Road are closed and so are the shops and restaurants on the highway.
Public and private educational institutions located on GT Road and its adjoining areas have also been closed and internet services in Kamoke have been suspended. A trench has been dug by the government on GT Road near Chenab Bridge and containers have also been placed, while the road from Wazirabad to Sialkot has been excavated and the land route between the two cities has been cut off to block the protesters from moving forward.
Repair work on the ditches dug on the Sadhoke stretch of the road, meanwhile, could not be started. Security has been tightened in Rawalpindi and Murree Road is completely closed for traffic, while the Rawalpindi Metrobus service is closed till further notice.
The Pakistan government announced a day earlier its decision to treat the proscribed TLP as a militant organisation, with Interior Minister Sheikh Rasheed sharing that the government had summoned the Punjab Rangers to maintain the law and order situation for two months in the province amid the ongoing protests.
Speaking during a press conference in Islamabad, the interior minister had said that the government wants to establish peace as there is a lot of international pressure on Pakistan.
"We have decided to summon the Rangers for a period of 60 days to maintain law and order situation in the province," Rasheed had said. "Like Karachi, Rangers have been called in Punjab under Section 4 (2) of the Anti-Terrorism Act 1997, read with Article 147 of the Constitution of Pakistan."
Which roads are open and which are closed?
According to the latest traffic alert issued by the Islamabad Traffic Police, the following major roads and avenues are completely open for both sides of traffic amid the incoming TLP protesters:
Islamabad Expressway
Lehtrar Road
Peshawar Road
Sirinagar Highway
Jinnah Avenue
Margallah Road
Constitution Avenue
Attaturk Avenue
7Th Avenue
Faisal Avenue
9th Avenue
Faqeer Epi Road.
However, some roads are partially closed. IJP Road is closed towards Stadium Road and towards Faizabad at the 9th Avenue signal. Alternatively, traffic is being diverted to 9th Avenue and IJP Road.
Meanwhile, Murree Road, too, is closed for both sides from the Faizul Islam stop till Rawal Dam Chowk. Alternatively, traffic from the Rawal Dam Chowk is being diverted to the Srinagar Highway, which can be further used to reach Rawalpindi via 9th Avenue and IJP Road. Similarly, Lehtrar Road can be used to reach the Islamabad Expressway.