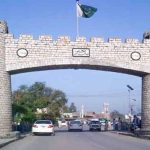 ISLAMABAD: The Supreme Court (SC) of Pakistan on Tuesday has been informed that Federal Investigation Agency (FIA) may register a case against Pakistan's former ambassador to the United States (US) Husain Haqqani.
Additional Attorney General Waqar Rana submitted to the SC's three-judge bench that FIA may book Hussain Haqqani.
According to the additional attorney general, the FIA has also written to the Interpol Agency regarding the issuance of Haqqani's red warrant, however, the agency has raised certain queries.
The FIA requires some time to fulfill requirements of the Interpol, he added. Waqar Rana also requested the CJP to hear the matter in his chamber as according to him, Haqqani and his lobby get active against Pakistan whenever the court hears this matter.
The Chief Justice of Pakistan (CJP) accepted the plea and asked AAG and petitioner to appear in his chamber on Tuesday making it clear that he would not be influenced by any lobby.