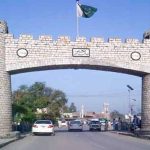 KABUL: An Afghan army helicopter crashed in southwestern Afghanistan on Wednesday, killing 25 crew and passengers, provincial officials said.
Naser Mehri, a spokesperson for the governor of western Farah province, said two army helicopters were on their way to neighbouring Herat province when one lost control.
He said the aircraft crashed in bad weather. A Taliban spokesperson said the militants shot it down.
Among the dead were the deputy army corps commander for western Afghanistan and head of the Farah provincial council, Mehri said.
Provincial council member Dadullah Qaneh said the helicopter hit a mountain peak in poor weather en route to neighbouring Herat province.
A Taliban spokesperson said fighters belonging to the armed group shot it down.
Senior Afghan government and military officials often travel by helicopter in regions where the Taliban has a large presence.