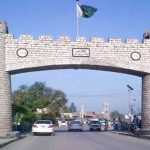 LANDIKOTAL: Pakistani border guards on Sunday arrested an Afghan national at Torkham while trying to forcibly take his young Pakistani wife to Afghanistan.
Officials said that 18-year-old Pakistani girl started crying when her aged Afghan husband tried to take her across the border with forged documents.
Hearing the cries and pleadings of the girl, border guards took both of them into custody. Upon investigations it was revealed that the real father of the girl had died some time back and later her stepfather sold her to an Afghan, three times her age.
The aggrieved girl told the security guards that she was married against her will and her Afghan husband now wanted to take her to Afghanistan after obtaining forged travel documents for her.
Security guards lodged the Afghan national at FC lockup in Landi Kotal.
Officials said fate of the aggrieved girl would be decided in accordance with her own will.