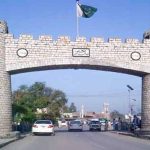 NOWSHERA: Afghan Ambassador to Pakistan Dr.Omar Zakhilwal has thanked the people and Government of Pakistan for giving shelter to millions of Afghan refugees for about forty years.
Visiting the newly opened UNHCR centre for registration of Afghan refugees in Nowshera today, he said the Afghan government now wants early return of the Afghan refugees to their motherland so that they could play their due role in reconstruction and development of Afghanistan.
He was also accompanied by several ambassadors of European Union in Pakistan. They witnessed the registration process of Afghan refugees in the centre for their return to Afghanistan.