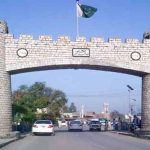 ISLAMABAD: Afghan President Ashraf Ghani's special envoy Umer Daudzai Tuesday arrived in Islamabad on his four-day visit
to Pakistan.
Afghan ambassador to Pakistan Atif Mashal received the President Ashraf Ghani's special envoy at Islamabad airport. Umer Daudzai will hold meeting with Foreign Minister Shah Mahmood Qureshi and other officials to discuss the Afghanistan peace process.
A delegation led by Daudzai will hold delegation level talks at the Foreign Office here.
The Afghan presidential envoy will also also meet with Pakistan's civil and military leaders including Army Chief General Qamar Javed Bajwa during his stay in Islamabad and exchange views on Afghanistan's peace dialogue, sources said.