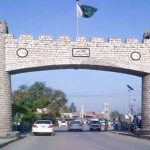 ISLAMABAD: Spokesperson of the Foreign Office of Pakistan Dr. Muhammad Faisal has said that Tehreek-e-Taliban Pakistan (TTP), Daesh and Jamatul Ahrar groups were using Afghan soil for terrorist activities against Pakistan.
At the weekly news briefing in Islamabad today[Thursday], Dr. Faisal said there was also network of Indian intelligence agency RAW in Afghanistan which was involved in terrorist activities.
He said Pakistan had shared evidence with Afghanistan in this regard adding that Mullah Fazlullah and mastermind of terrorist attack on Army Public School in Peshawar are also in Afghanistan.
He said the issue of opium cultivation and drug production poses a serious threat to the socio economic development, security and stability of Afghanistan but the surrounding region also.
When asked about the denial of entry to estranged Baloch leader Mehran Marri by Switzerland, Dr Muhammad Faisal said Pakistan continues to impress upon friendly countries to deny space to individuals posing threat to sovereignty and territorial integrity of Pakistan.
He noted it is not in favor of any country to allow terrorists on its soil.
To a question, the spokesperson said the US defense secretary is expected to visit Pakistan in the next few weeks. Dates are being worked out.
He said Pakistan and the US are engaged in discussing all issues including those relating to regional peace and security.
To another question, the spokesperson said that Pakistan had offered on humanitarian ground to arrange a meeting between Kulbushan Yadav and his spouse. He said the Indian response that the mother should also be allowed to accompany the wife to meet Kulbushan is under consideration.
Dr Muhammad Faisal said that Pakistan will continue to highlight Indian atrocities and human rights violations in occupied Kashmir at the international level.
The spokesperson expressed concerns over the conviction of six members of Jamaat-e-Islami by so called war crimes tribunal in Bangladesh.