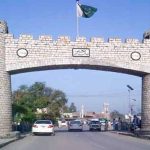 MIRANSHAH: Afghan security forces have killed eight innocent Pakistani tribesmen in Paktika province of Afghanistan, Khyber News reported on Monday.
According to Khyber News correspondent, the tribesmen belonged to Kabalkhel tribe of North Waziristan tribal district. The Special Forces of Afghanistan had carried out raids on the homes of Kabalkhel tribe near Pak-Afghan border in Bermal district of Paktika province.
The sources said that the tribesmen were took eight tribesmen into custody and shot them dead outside their homes. Four of the victims were brothers. The sources said that some of the dead had returned from Karachi, where they were working as labourers. The victims were laid to rest in Afghanistan. Their funeral prayers were attended by thousands of people.
The relatives of the victims say that the killed tribesmen never remained part of any terror organization.