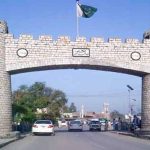 KABUL: The Afghan Taliban have announced the death of Jalaluddin Haqqani, the head of one of the most potent militant factions operating in Afghanistan, their allies the Afghan Taliban announced Tuesday.
"Just as he endured great hardships for the religion of Allah during his youth and health, he also endured long illness during his later years," the Afghan Taliban announced in a statement.
Jalaluddin Haqqani, whose son Sirajuddin Haqqani now heads the brutal group and is also the Taliban's deputy leader, died "after a long battle with illness", the Taliban said in a statement.
Jalaluddin "was from among the great distinguished Jihadi personalities of this era," the Taliban said in the English version of its statement posted on Twitter.
He was an Afghan mujahideen commander fighting the Soviet occupation of Afghanistan in the 1980s with the help of the US and Pakistan.
Jalaluddin gained notoriety for his organisation and bravery, garnering attention from the CIA and a personal visit from US congressman Charlie Wilson.
A fluent Arabic speaker, Jalaluddin also fostered close ties with Arab jihadists including Osama Bin Laden who flocked to the region during the war. Later, Jalaluddin became a minister in the Taliban regime.