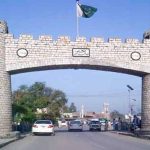 DOHA: Afghan Taliban claimed on Thursday that the peace deal with the US has become successful.
The ninth round of negotiations between the United States and the are reached at the its logical end in the Qatari capital, Doha, with the group indicating that a peace agreement will be finalised and an announcement made in a day or two days.
The expert on Afghanistan issue senior journalist Mushtaq Yousafzai said that the Us has accepted the 98 per cent demands of the Taliban.
Following the conclusion of the talks that began on August 4, both sides said they would consult their respective leaderships on the next steps.
Since last year, the two sides have held discussions over a potential agreement that is focused on four key issues: a Taliban guarantee that it will not allow foreign armed groups and fighters to use Afghanistan as a launchpad to conduct attacks outside the country; the complete withdrawal of US and NATO forces; an intra-Afghan dialogue; and a permanent ceasefire.
A Taliban representative in Doha who is part of the negotiating team told Al Jazeera on Tuesday that a peace agreement was "near", without providing further details.