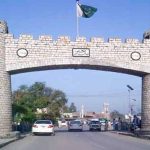 SHANGLA: An Afghan Taliban commander was apprehended during police and security forces raid in Jatkol area of Shangla district here on Monday.
According to DPO Shangla, the arrested terrorists commander identified as Saleh Muhammad is a member of an Afghan base terror outfit 'Emirat-e-Islami'.
DPO Shangla said that the arrested terrorist was involved in attack on PML-N leader Amir Muqam in 2014. At least seven people were killed in the attack on Amir Muqam.
DPO further said that Saleh Muhammad was also involved in attack on DSP Khan Bahadar in 2013. Six people including DPS were martyred in the attack.
Hand grenades, ammunitions and pistol were recovered from the custody of the arrested terrorists.