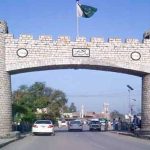 KABUL: The Afghan government has summoned Pakistan's ambassador in protest of recent shelling in Afghanistan's eastern provinces.
Afghanistan's foreign ministry summoned Ambassador Abrar Hussain in Kabul, where Deputy Foreign Minister Hekmat Khalil Karzai asked for an explanation but also gave his condolences regarding recent suicide attacks in Pakistan.
He said: "The people of Afghanistan who are the victims of terrorism can understand this pain, because they witness such terrorist and rocket attacks everyday planed on the other side of the Durand line".
Karzai also said the Afghan government wants Pakistan to take strict action against terrorists that are hiding in Pakistan.
Karzai expressed concern over the closure of the Torkham border crossing and asked for the reopening of the gates.
The border was closed after a suicide bombing at a Lal Shahbaz Qalandar shrine in southern Pakistan that killed 88 people and injured nearly 300 devotees.