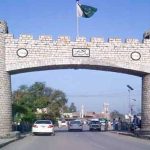 TASHKENT: Afghan President Ashraf Ghani has said that his country wants to expand its relations with the regional countries to win the war against terror.
Addressing the international conference on Afghan conflict in Tashkent, Ghani said that the conference is the biggest proof that Afghanistan wants peace on its soil.
He added that the Afghan security forces have conducted massive military operations against terrorists during the past few weeks.
The conference titled "Peaceful Cooperation in Security and Regional Interaction" is expected to be attended by representatives of as many as 25 countries including China, France, Germany, India, Iran, Italy, Kazakhstan, Kirgizstan, Pakista, Russia, Saudi Arabia, Tajikistan, Turkey, Turkmenistan, United Arab Emirates, United Kingdom and the United States.
It is being expected that the conference will come up with suggestions for peace in Afghanistan which will prove helpful in establishing law and order not only in Afghanistan but the entire region.