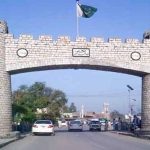 KABUL: Mohammad Daoud Muzamil, the Taliban Governor of Balkh province, was killed in a blast inside his office on Thursday.
Media reports quoting police spokesperson say that two people, including Balkh Governor Mohammad Daoud Muzamil, were killed in a blast this morning.
According to Afghan media outlet Tolo News, police spokesperson Asif Waziri said the explosion occurred during a meeting and so far no group has claimed responsibility for it.
The spokesperson said in a statement that an attacker with a suicide vest attacked a second floor of building near the governor's office in the provincial building.
Dawood Muzamil was among the top officials of the Taliban killed an attack after the Taliban's return to power in August 2021. He was initially appointed as the governor of the eastern province of Nangarhar, where he led the fight against ISIS militants. Later, he was made the governor of the Balkh province.
It should be noted that after the Taliban came to power, ISIS carried out several major attacks in Afghanistan, targeting not only civilians but also Taliban leaders.