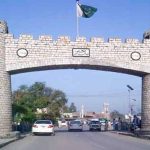 ISLAMABAD: Afghanistan's Interim Foreign Minister Ameer Khan Muttaqi has said that Afghanistan's soil will not be used against Pakistan. In exclusive Interview with Khyber News, which was aired tonight at 10 PM,  Ameer Khan Muttaqi said that he was grateful to Pakistan as Pakistan has hosted Afghan refugees for 40 years. Ameer Khan Muttaqi said that their Government of three months has performed well as they have achieved Peace in Afghanistan.
Ameer Khan Muttaqi said that the way the face of Afghanistan is being shown on social media is far from reality. Ameer Khan Muttaqi told Khyber News that Afghanistan is successfully building trade relations with most of the countries.
In his interview Ameer Khan Muttaqi said the the coalition government in Afghanistan includes people of all races and ethnicities. Women in particular have been welcomed into the government.
In response to a question, He said that the education system was paralyzed all over the world due to Corona. Corona also affected Afghanistan, however, once the situation returns to normal, special measures will be taken to educate women in Afghanistan.