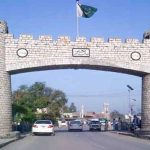 LAHORE: Pakistan Tehreek-e-Insaf (PTI) Chief Imran Khan said that the disqualified prime minister Nawaz Sharif held secret meeting with Indian premier Narendra Modi to protect himself from army.
Addressing a ceremony at Aiwan-e-Iqbal in Lahore on Thursday, Imran said that it was the same Nawaz Sharif's government, which released the Dawn Leaks report.
PTI chief said that the article was having such statements that usually India gives against Pakistan Army.
Imran Khan alleged that Pakistan Muslim League-Nawaz (PML-N) secretly changed oath of Khatm-e-Nabuwwot (Finality of Prophet-hood) adding that its leaders had confessed that the mistake was carried out by someone.
Imran Khan said that a committee was formed by the incumbent government to probe the matter of changing oath of Khatm-e-Nabuwwot; however, the culprit has not yet been identified.
He went on saying that the nation was waiting for the report of the committee to be made public.
The PTI Chief alleged that the one caught in Panama Papers case (Nawaz Sharif) was seeking help of foreign lobbies.
He added that these (PML-N) were the people damaging reputation of the country to protect themselves.