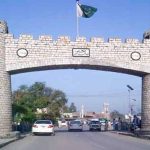 PESHAWAR: Chief of Qaumi Watan Party (QWP), Aftab Ahmed Khan Sherpao has rejected the new constituencies saying Pakistan Tehreek-e-Insaf (PTI) has made pre-poll rigging in the new constituencies.
Addressing a press conference here in Peshawar on Saturday, Sherpao said that they would unite the entire political parties and raise voice against the new constituencies.
The QWP Chief suggested that the number of seats of provincial assemblies should also have been increased along with the seats of National Assembly (NA).
Regarding to the appointment of Senate Chairman, Sherpao said that the candidate should be appointed with the consensus of all political parties.
He; however, said that members of the assemblies sold their votes in the recently held Senate elections.
Training his guns at Pakistan Tehreek-e-Insaf's (PTI) government in Khyber Pakhtunkhwa, Sherpao said that National Accountability Bureau (NAB) should investigate the billion tree tsunami project.
He maintained that the anti-graft body should also grill the provincial government for giving tenders to blacklist companies in Bus Rapid Transit BRT.
He also resorted to criticism in Naqeebullah Mahsood's extrajudicial killing saying that the government had failed to arrest a Senior Superintendent of Police (SSP).
Sherpao said that not only Naqeebullah, but several other Pakhtuns were extrajudicially killed.