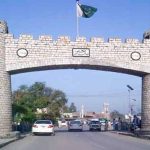 WANA: Member National Assembly Ali Wazir inaugurated an Agri Park and handed over keys of shops to owners in Wana Bazaar here on Sunday.
He also handed over keys of several newly constructed shops to its owners during a ceremony held here where assistant commissioner Wana Fahdullah and tribal elders were present.
Addressing the participants of the ceremony, he said that the Agri Park will lead to prosperity and give jobs to locals as farmer could store their fruits in it.
Earlier, most of fruit would perish as there was no cold storage in the area due to which farmers would suffer massive losses, he said, adding that they should not fear now as their crops would not perish.
The participants thanked Ali Wazir and hoped that he would work for the betterment of area.