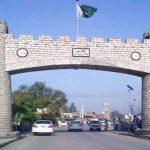 ISLAMABAD: After appearing before the Islamabad High Court for non-implementation of the court's order to clear the Faizabad sit-in on Monday, Interior Minister Ahsan Iqbal appealed to the protesters once more to end their sit-in peacefully.
Addressing the media after the hearing, Iqbal said once more that the government wants to avoid taking action for fear of bloodshed.
The minister claimed that there are conspirators who want a "Model Town or Lal Masjid"-like episode once again, referring to government action against political workers in Lahore in 2014 and seminary students in Islamabad in 2007, respectively.
He added that the Khatam-e-Nabbuwat laws are stronger than before.
"The impression that we compromised on Khatam-e-Nabbuwat is not correct. I am hopeful that we will resolve the issue in 24-48 hours," he said further.
The minister said the government will make sure that citizens do not face such situations anymore.
Hearing the matter in front of Iqbal, Justice Siddiqui asked why court orders to end the protest are not being implemented.
The minister, taking sole responsibility for the failure to end the sit-in, said he wants to resolve the matter peacefully and asked the court for more time.
Upon hearing the interior minister's request, Justice Siddiqui adjourned the hearing until Thursday.
The court also issued show-cause notices for contempt of court to the interior secretary, chief commissioner and Islamabad inspector general.
"I believe we'll be able to bring the protesters to our side," said Iqbal after the hearing.
As the hearing began on Monday, Justice Siddiqui had expressed reservations saying that the government did not implement his order to clear the protest by 10am Saturday despite his clear-cut directions to the local administration.
The judge said that he will issue a 'contempt of court' order in this regard and ordered the interior ministry's top officials to be present in court today.
Commuters in the twin cities continue to face hardship as the protest sit-in at Faizabad Interchange, linking the main Islamabad-Rawalpindi route, by religious parties enters its fifteenth day today.