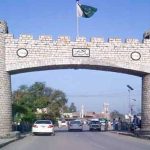 ISLAMABAD: Interior Minister Ahsan Iqbal has called for strong relationship between police and academia to tackle the modern day challenges.
Addressing the National Police Summit and Expo in Islamabad on Wednesday, he said no development is possible without peace in the society.
Terming the police martyrs as national martyrs, Ahsan Iqbal paid respect and said that the nation is proud of them.
Interior Minister said we will have to make our youth safe and protected.
He said police needs to develop strong relationship with the community to win their confidence.
The minister also paid rich tributes to police martyrs who have sacrificed their lives for maintaining law and order in the country.