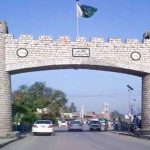 ISLAMABAD: Minister for Planning and Development Ahsan Iqbal has emphasized for close coordination between federal and provincial governments for country's development and prosperity.
Speaking at a high level meeting of Planning and Development Ministers of AJK and Gilgit Baltistan, he pointed out that after devolution of powers, it has become more critical.
He said we need to align federal and provincial development budgets through coordination to achieve national development targets in synergistic mode.
Meanwhile, talking to newsmen after the meeting, chief minister Gilgit Baltistan Hafiz Habibur Rehman said that the India was trying to sabotage china Pakistan Economic Corridor project, but the New Delhi would never succeed in its nefarious designs.
He said that the federal government has increased budget for Gilgit-Baltistan from Rs8billion to Rs14 billion, which would help in the area's economic development. He said that the Gilgit Baltistan has the capacity of producing 50,000MW hydle electricity. He said that the land for Diamir-Basha dam has been acquired and hoped for over $30 billion investment in electricity and other development projects in the area.