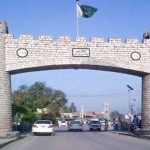 ISLAMABAD: Chief of Air Staff Air Chief Marshal Mujahid Anwar Khan Friday called on General Zubair Mahmood Hayat, Chairman Joint Chiefs of Staff Committee, at Joint Staff Headquarters, Rawalpindi.
Matters related to operational preparedness of Pakistan Air Force came under discussion, said a press release.
The Chairman Joint Chiefs of Staff Committee applauded high operational and training standards being maintained by the Pakistan Air Force.
He also offered his full support to the air chief on indigenization and modernization of Pakistan Air Force.
The air chief expressed full resolve to protect and defend Pakistan's airspace against any threat.