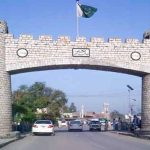 ISLAMABAD: Air Marshal Mujahid Anwar Khan has been appointed as the new Chief of Air Staff after the approval of the Prime Minister.
According to the PAF Spokesperson, Mujahid Anwar Khan received commission in the force in December 1983.
The Spokesperson added that Anwar Khan is recipient of coveted Sword of Honor, Best Pilot trophy and Chairman Joint Chiefs of Staff Committee gold medal from PAF Academy Asghar Khan.
Meanwhile, Pak Army spokesperson Major General Asif Ghafoor felicitated Mujahid Anwar on his appointment as the new Chief of Air Staff.
He also extended best wishes to Anwar Khan on behalf of the Pakistan Armed Forces for carrying forward the baton.
He wrote, "Congrats to Air Chief Marshal Mujahid Anwar Khan on appointment as Chief of Air Staff Pakistan Air Force. Best wishes from Pakistan Armed Forces. Good luck for carrying forward the baton."
Anwar Khan will replace the serving Chief of Air Staff Sohail Aman who is going to retire on March 18.