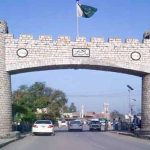 ISLAMABAD: Air Marshal retired Asghar Khan has passed away on Friday morning, media outlets reported.
According to media reports, Khan, who became the head of PAF at the age of 35, passed away at the age of 96 after a long illness.
His funeral prayers will be offered on Saturday in Abbottabad, the reports added.
Khan, a former politician and a World War II veteran fighter pilot, was the youngest head of the PAF.
In March 2017, the PAF Academy in Risalpur was named after Khan.
Meanwhile, Pakistan Tehreek-i-Insaf (PTI) Chairman Imran Khan condoled over the sad demise of Khan on Twitter.
The PTI Chairman wrote, "Saddened to learn of Air Chief Marshal Asghar Khan's death early this morning. He transformed the PAF and was a man of steadfast principles and integrity. My prayers and condolences go to his family".