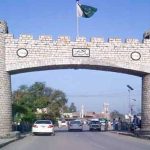 KARACHI: Air Vice Marshal Salman Ahsan Bukhari paid a visit, on Pakistan Air Force Day, to mausoleum of Rashid Minhas, Pakistan only fighter pilot who was awarded the highest decoration, Nishan-e-Haider.
Minhas was decorated with Nishan-e-Haider for not letting his defector instructor, Flt Lt Matiur Rahman, fly to India with state secrets and an in-service air force official.
He chose to point aircraft's nose to ground and destroy it, rendering sacrifice of his life for the sake of sanctity and integrity of his country in 1971 war against India.
Coup leader, President General Yahya Khan announced posthumous decoration for martyr Minhas.
Air Vice Marshal, Salman Ahsan Bukhari laid floral wreath on the resting place of late Minhas and while talking to the media said that Pakistan Air Force is always ready to defend the borders of the country.
The nation celebrates Air Force Day also known as 'Youm-e-Fizaya' on September 7 every year to remember the crucial role played by the fighter pilots and armed force of the air in Pakistan's victory against India in 1965 war.