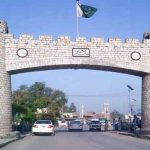 BAGH: Azad Kashmir's Prime Minister Raja Farooq Haider has written a letter to United Nations (UN) Secretary General Ban Ki-moon for the release of Hurriyet leader Yasin Malik.
Yasin was detained by so-called security forces in the valley over two months ago amid curfew and violent clashes of protesters with the personnel.
According to his wife, he was kept in solitary confinement the last time she saw him and his leg infection had gotten severe. Yasin was a heart patient and needed timely medication for that as well, she said.
Raja Farooq Haider has written in the letter that Yasin Malik's condition is deteriorating however; despite of this Indian forces have kept him in illegal detention.
He informed that slackness is also being made in the Hurriyet leader s treatment.
Earlier, Mishal Nalik also penned a letter to Secretary General of UNO calling attention to deliberate negligence towards treatment of her husband Yasin Malik citing Indian authority in held-Kashmir.
The latest of the unannounced curfews in Occupied Kashmir came over two months ago when Burhan Wani, a freedom fighter who had announced to launch series of protests, was brutally martyred by so-called security forces.
Use of pellet guns by the troops has cost hundreds of protesters their eyesight while over thousand have been injured so far.
The violence in strife-torn valley has claimed the lives of more than 100 Kashmiris.
Besides unannounced curfews, the puppet government also uses media blackout as one of the many suppressing instruments.