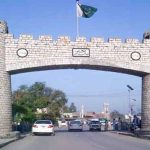 ISLAMABAD: Former prime minister Nawaz Sharif recorded his statement before the Accountability Court which was hearing Al-Aziza reference against him.
Pakistan Muslim League-Nawaz (PML-N) supreme leader Nawaz Sharif has started to record his statement in Al-Azizia reference under Section 342 of the Criminal Procedure Code. During hearinf, judge Muhammad Arshad Malik asked Nawaz Sharif whether it was true that that he had been a public office holder.
Sharif responded in affirmative and said he held the positions of prime minister, chief minister, finance minister and opposition leader in the past.
He said he held the position of prime minister thrice, but held no office during the period between 1999-2013. Nawaz said that he didn't hold any public officer from October 12, 1999 to May 2013 and that he submitted the wealth tax returns by himself.
The former prime minister said he had been in exile between 2000 and 2007.
During the proceeding, Nawaz Sharif's lawyers objected to some questions, saying it was not easy for a common man to understand the terms being used in the questions.
Nawaz Sharif found some questions vague and based on rumors.
But NAB prosecutors said they had no trouble understanding the questions being posed to Sharif.
Responding to a question, Nawaz Sharif said his father Mian Sharif was an influential person in his family.