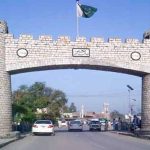 LAHORE: Pakistan Tehreek-e-Insaf (PTI) leader Aleem Khan on Thursday appeared before the National Accountability Bureau's (NAB) Lahore office in a case related to his offshore company.
The anti-graft body grilled him over his offshore company Hexam Investment Overseas Limited.
He also presented details of the company to NAB.
The PTI leader had appeared before NAB's probe committee last month, where he was asked to present details of Hexam Investment Overseas Limited, which according to records is owned solely by Aleem.
Aleem had claimed that his company was not named in the Panama Papers and that he would present all documents required by the NAB.
Meanwhile, talking to media outside the NAB's office, Aleem Khan said that he would appear before the anti-graft body whenever he is summoned.