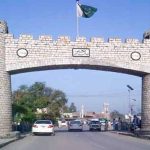 LAHORE: Former senior minister of Punjab Aleem Khan on Tuesday filed bail petition in Lahore High Court (LHC).
Aleem Khan's counsel Adnan Shujaa Butt filed bail petition in the high court.
According to the petition, the National Accountability Bureau (NAB) arrested Aleem Khan over the charges of his offshore companies and assets beyond known sources of income.
The petitioner said that he has declared his all assets and the companies in his income statements.
Khan called all NAB charges including the misuse of authority as baseless.
The NAB has failed to prove any allegations against him, Aleem Khan said in his petition and pleaded to the court to order his release on bail.
An accountability court in Lahore on Monday approved 14-day judicial remand of Khan in assets beyond known sources case.
The court had ordered to produce the former senior minister in the next hearing fixed on April 02.
As the hearing resumed, Defence lawyer pleaded the accountability court to order immediate filing of a reference.
NAB's prosecutor said that final report in the case would be filed shortly when the judge questioned the anti-corruption watchdog for filing a reference.
The NAB in its charges against Khan alleged that the PTI leader was a common man in year 2000 and suddenly became a millionaire as his assets now worth Rs 871 million. He remained Punjab minister from 2003 to 2007 and set up 35 companies, while his several bank accounts also surfaced, the anti-corruption watchdog claimed.