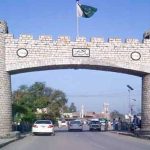 DI KHAN: The local police Wednesday claimed that the Pakistan Tehreek-i-Insaf (PTI) leader and provincial minister Ali Ameen Gandapur was intoxicated when he visited Himad polling station early morning a day after local government polls were held in Khyber Pakhtunkhwa, where he misbehaved with female polling staff and police officials.
Gandapur is facing three charges, including snatching ballot boxes from the polling staff in Himad area and threatening them and police deployed there.
According to a police report, prepared by DPO DI Khan, Sadiq Baloch, Khyber Pakhtunkhwa's revenue minister entered a female polling station in Himad area where he had manhandled Station House Officer of the area police station.
The reporting quoted Assistant Commissioner City as saying that the provincial minister was intoxicated at the time and had manhandled female polling staff present on the scene.
The DPO stated that upon reaching the spot, he tried to talk to Ali Ameen Gandapur and his brother, but they had refused to talk to him and rushed to his bulletproof car.
Ali Ameen Gandapur's car was then surrounded by an angry mob, who demanded return of ballot boxes and registration of FIR. Announcements were also made in local mosques calling for more people to arrive at the scene. The guards of the MPA had also resorted to gunfire, the report said.
A female member of the polling staff was also injured by a stray bullet during the scuffle which had broken out as ballot boxes were being taken from the polling station. Negotiations conducted by Police officials was successful in calming down mob.