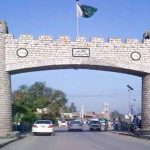 KARACHI: The funeral prayers for MQM leader Ali Raza Abidi, who was assassinated last night, were offered at Imam Bargah Yasrab in Defence Housing Authority (DHA) here on Wednesday.
Allama Hasan Zafar Naqvi led the funeral prayers of Abidi. Besides MQM workers and political leaders, Governor Sindh Imran Ismail and Federal Minister for Maritime Affairs Ali Zaidi, Farooq Sattar, Syed Sardar Ahmed, Salman Baloch, Deputy Mayor Arshad Vohra also offered the prayers.
Former MQM-P leader Khawaja Izharul Hasan called for the immediate arrest of the suspects involved in Abidi's assassination whereas Dr Farooq Sattar, also a former leader, noted that it was a question mark for the federal and provincial leadership that such killings had started to happen again with more frequency.
The investigators have received the forensic report of the incident. According forensic report, the pistol used in the assassination of Ali Raza Abidi was also used in killing of a person Ihtesham on December 10.